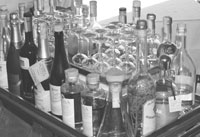 Our Philosophy


We only use fresh, first quality ingredients. These are the inspiration of our dishes. Quality all comes down to flavour. The use of ingredients with a superb flavour, determined by their origin, freshness and season. This seasonal palet of flavours allows us to prepare dishes based on Italian and regional traditions. Our passion is to let our ingredients play the star role; truffle in Cesare's special pasta with ansjovis and pine nuts, or perch (caught in the nearby Lago di Monate) with spinach in ravioli or an ingredient with a humble background like polenta, but superb with calf's shin simmered in Barolo or ..............dialect dish...
The combination of food and wine should be like a good marriage.
After selecting a dish for our menu, we decide what wine would be the perfect partner. Nor the wine nor the dish should overpower the other, there has to be a perfect balance and then:
one and one equals three. Eccola, the perfect dining experience.

To ascertain this quality we have over the years, established a network of trustworthy suppliers. Mostly family run businesses whom are as passionate about producing quality food and wine as we are. As a result we know exactly what we serve you and where it comes from.